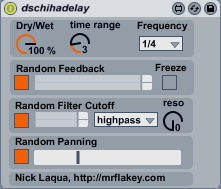 When cleaning up my laptop, I came across monohad a former project of mine where I embarked on porting the Apparat performance patch dschihad to Max5 while enabling it to be used with the monome. Eventually, I abandoned (or should I say "paused") the project when the patch got too big and too resource-hungry.
Still, there are some goodies in the code, so I just took the random delay section and made that little m4l audio device. Essentially, it is a random delay with random feedback, random filter cutoff and random panning. quite some randomness, so I suggest to put a limiter behind it, otherwise you might risk your expensive gear.
In more detail, it is a single-tap delay unit with random delay times (the range can be chosen) which is synced to the Live transport with a variable frequency. The range for the feedback amount as well as the range for the filter cutoff can be chosen using the two sliders. It also allows to freeze the feedback, in that case, a limiter would be essential.
The toggles on the left hand side switch off the different parts of the device (feedback, filter, panning). Please note that for now, only the left input channel is processed. If anyone is interested, I might change that to stereo mode.
Download